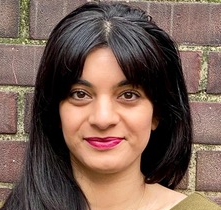 Pavan Dhaliwal
Chief Executive
Pavan is our Chief Executive. She is an equalities and human rights expert and has worked across many sectors for more than 15 years. These have ranged from grassroots community organising to high level advocacy in the UK and internationally. 
Pavan has a special interest in criminal justice, education and women's sexual and reproductive health rights. Most recently she led the Corporate Affairs directorate at MHA, the largest elderly social care provider in the UK, including their Covid-19 management response. 
Prior to this, Pavan was Director of Public Affairs and Policy at the British Humanist Association and Vice President of the European Humanist Federation. There she worked on areas as varied as secularism, social cohesion, LGBT rights, women's sexual and reproductive health rights and assisted dying. 
Pavan started her career at the 1990 Trust and Race on the Agenda, two social justice and race equality organisations.  A founding member of the UK/US collaborative initiative Equanomics UK, she was also a trustee of CRJ UK, a charity working to tackle disproportionality in the criminal justice system. She is currently on the board of the Public Law Project. 
Spending more time indoors due to Covid-19 has led Pavan to reignite a passion for reading fiction. Her top recommendation from 2020 was 'On earth we're briefly gorgeous' by Ocean Vuong. 
"Revolving Doors has pioneered approaches which have led to fundamental changes in the approach towards the people trapped in the cycle of the revolving door. These were people who were previously deemed 'invisible' and 'hard to reach' by the agencies set up to serve them. Revolving Doors has done this by demonstrating the power of engaging individuals within the system to have a voice in that system and on its design. 

This has been an extraordinary development to have taken place over the past decade. The institutional and systemic faults that prevent people from realising their full potential away from the cycle of crisis and crime still remain. But there is a real opportunity to drive change. 

The pandemic has brought into sharper focus a number of fundamental issues at the core of our society and public policy. It has also, vitally, brought an opportunity to address these issues. 

We need brave, humane and evidence-based solutions that address the issues that lead people into contact with the criminal justice system. With these, we'll  be able to ensure that those who are in the system are given the help they need."